Florida Online Divorce
Shall I get a Florida online divorce? Could I get a Florida Online divorce?  Do I qualify for a Florida online divorce? I am having doubts and not sure what to do. I am scared about the consequences. I am confused about how to do the whole process. What shall I do?
To speak with a Florida divorce consultant today click here
Florida online Divorce Process
First Step – Client completes a client intake form, then the divorce consultant, legal document preparer, divorce paralegal or legal document assistant; he or she will use the information provided and type the forms needed for the no court divorce. Once the documents are ready they are emailed to back to the client.
Second Step – Upon reviewing the divorce papers the client and spouse sign the documents in front of a notary. The documents are scanned back and emailed to the person that prepared the divorce papers.
Third Step –  The divorce papers are then prepped for submitting to the court. Most Florida online divorce preparers know how to file documents using the court e-filing system and can help couples file the divorce papers using the Florida court's e-portal. Otherwise the divorce papers are submitted in person or through the mail.
After that the judge will review the divorce papers, sign the divorce final judgment and mail the divorce final judgment to both parties. Done!
From the time the divorce is filed at the courthouse, the divorce typically takes less than 45 days. If the petitioner has a low income, is on disability, welfare or social security benefits, the divorce court filing fees will most likely be waived. This could be a savings of $409
Last year alone, one divorce agency in South Florida filed more than 1,000 of divorce papers with a 100% success rate. Out of all of these Florida online divorces 95% were completed in less than 45 days (typically 30 days).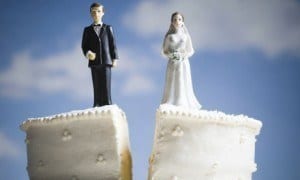 Types of Florida Divorce
There are two types of Florida divorce
In Mutual Agreement – When both parties are willing to participate in the process and cooperate with providing information and signing pertinent documents.
This is the ONLY type of divorce that qualifies for a Florida online divorce without a court hearing. The process can be performed online on most Florida counties, except Miami Dade county.
By Summons- When there is drama among both parties.
Other things to consider
There are other categories of divorce that you need to consider when you are choosing how to do your divorce:
Simple Divorce: This is when there are no assets, liabilities or minor children between both parties. Also, there is no alimony to consider or pensions and other types of benefits. A simple divorce does not need a marital settlement agreement The paperwork includes the petition, financial affidavits, disclosures, notice of social security and special interrogatory to have the final hearing waived.
Divorce with Property: A divorce with property needs a marital settlement agreement because there may be assets, liabilities, pensions, alimony or any other type of transaction that needs to be spelled out into the marital settlement agreement. The paperwork includes a petition, financial affidavits, notice of social security, disclosures, the marital settlement agreement and if it is a no court process the Special Interrogatory.
Divorce with Minor Children: In addition to the marital settlement agreement, this type of divorce also includes a parenting plan and child support calculations. The documents include petition, financial affidavits, child support guidelines with calculations, parenting plan, notice of social security, disclosures, marital settlement agreement and Special Interrogatory to have the final hearing waived.
How to Save Money
The Florida family court has a form called the Application of Indigent Status. If you are low income, on fixed government income or unemployed, you may be able to get the court filing fee waived. This could mean a savings of $409! Ask your document preparer for assistance on this. If you decide to hire an attorney you may not be able to use this form, think carefully before choosing if you are going to hire an attorney or if you are going to hire a document preparer. You can also choose to do it alone however due to the complexity of the process this is not recommended. If you do not prepare all of the forms correctly, your case will take longer and they may make you start over which will definitely lengthen the hardship you are already going through.
To speak with a Florida divorce consultant today click here
Proudly Servicing the Following Areas:
South Florida
Hialeah Pembroke Pines Opa Locka Boca Raton Miami Beach Loxahatchee Delray Beach Boynton Beach Key Biscayne Lake Worth West Palm Beach Deerfield Beach North Miami BeachMiamiLake Harbor South Bay Belle Glade North Palm Beach Palm Beach Gardens Pahokee Fort Lauderdale DaniaHollywoodPompano Beach Hallandale Homestead